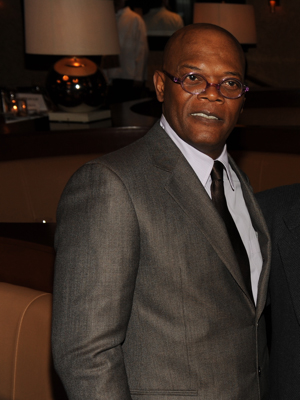 Hollywood's Samuel L Jackson, is hoping to get Usain Bolt into the 2014 movie, The Secret Sevice. Usain, who is brand ambassador for Puma, Gatorade and Digicel and a six-time olympic chapioan and record breaker fo r100m and 200m, has little or no experience on the big screen, but Samuel is willing to groom him.
David Beckham is also being approached for a role in the movie, which is based on comic books. Samuel L Jackson, plays a villan in the movie. He was quoted by tthe BBC as saying;
"The world has changed in such an interesting way. Fame is more important sometimes now than acting ability is, in a certain way." "So that will be one of the unique aspects of this film, that there'll be people like David Beckham and, hopefully, Usain Bolt and other people that they have in the script."
Am am super excited about this, and hopefully Usain might just take him up on the offer and feature in the movie. Since it is based on comic books, I see Usain playing Flash. But then again, when it comes to Hollywood you can never predict what will happen to you favorite characters. It will be super annoying if Bolt doesn't run in the movie.